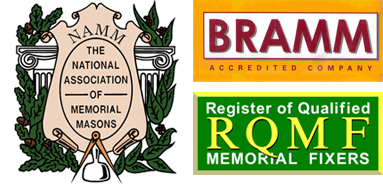 We are proud to be Full Retail members of The National Association of Memorial Masons (N.A.M.M.) which is the recognised trade association for our industry. The standards set down by N.A.M.M. in its Code of Working Practice should ensure a consistent standard of workmanship among its members. We like to think that we exceed these minimum standards in everything we do.
We are also listed on the B.R.A.M.M. register. This is the British Register of Accredited Memorial Masons. This is a new organisation set up by N.A.M.M. in partnership with Burial Authorities to ensure the consistent standards of workmanship specified by N.A.M.M. amongst its members is also adhered to by non-member firms working in Burial Grounds Nationwide thus making them safer for the public and those who regularly work in or use them.
It is our intention to achieve the required B.R.A.M.M. fixer licences for our our staff by following the more demanding and time consuming N.V.Q. route. We believe this offers the most comprehensive assesment of our capabilities and should act as reassurance to our customers that their memorial will be completed to the highest standards by competent and experienced craftsmen.